This word search puzzle contains 25 words related to Middle Eastern dance and music. How many can you find?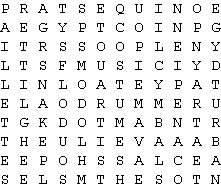 The words appear in the diagram backwards, forwards, up, down, and diagonally. They always appear in a straight line, and they don't skip any letters.
Need help? The word list to the right tells you what to look for! Cross each word off the list as you find it!
Artist
Bead
Cane
Class
Coin
Costumes
Cymbals (finger)
Drummer
Egypt
Glitter
Mesh (body stocking)
Music
Oud
Paillettes
Perform
Pose
Sequin
Shimmying
Snake
Spin
Star (of the show)
Tea Tray (balancing)
Troupe
Turban
Veil