PHOTO CREDIT: Above photo by John Rickman Photography, San Jose, California.
What's in a Belly Dancer's Handbag?
by Adrianne Belly Dance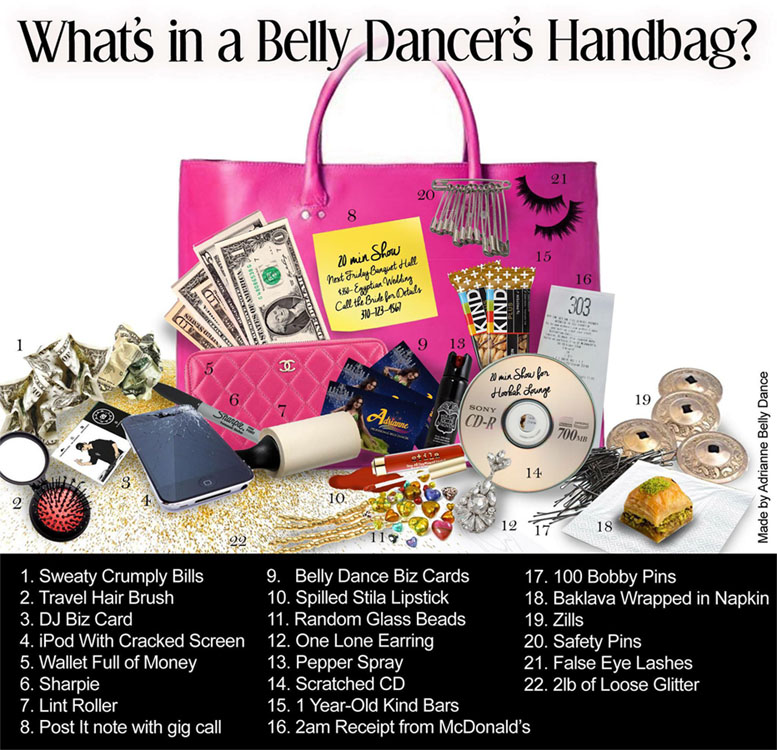 1. Sweaty Crumply Bills

2. Travel Hair Brush

3. DJ Biz Card

4. iPod with Cracked Screen

5. Wallet Full of Money

6. Sharpie

7. Lint Roller

8. Post-It Note with Gig Call

9. Belly Dance Biz Cards

10. Spilled Stila Lipstick

11. Random Glass Beads

12. One Lone Earring

13. Pepper Spray

14. Scratched CD

15. 1-Year-Old Energy Bars

16. 2 a.m. Receipt from McDonalds

17. 100 Bobby Pins

18. Baklava Wrapped in Napkin

19. Zills

20. Safety Pins

21. False Eye Lashes

22. Two Pounds of Loose Glitter
About the Artist
Professional belly dancer Adrianne delights audiences all over Southern California. As a favorite at numerous venues, her high-energy shows bring smiles and cheer to all. Adrianne has studied belly dance for 10 years, and works hard to ensure authenticity in her work.

She's also known for her work on The Fez Documentary with producer Roxxanne Shelby to preserve the history of belly dancing and Arabic culture on the West Coast.
Related Articles
Copyright Notice
This entire web site is copyrighted. All rights reserved.
All articles, images, forms, scripts, directories, and product reviews on this web site are the property of Shira unless a different author/artist is identified. Material from this web site may not be posted on any other web site unless permission is first obtained from Shira.
Academic papers for school purposes may use information from this site only if the paper properly identifies the original article on Shira.net using appropriate citations (footnotes, end notes, etc.) and bibliography. Consult your instructor for instructions on how to do this.
If you wish to translate articles from Shira.net into a language other than English, Shira will be happy to post your translation here on Shira.net along with a note identifying you as the translator. This could include your photo and biography if you want it to. Contact Shira for more information. You may not post translations of Shira's articles on anybody else's web site, not even your own.
If you are a teacher, performer, or student of Middle Eastern dance, you may link directly to any page on this web site from either your blog or your own web site without first obtaining Shira's permission. Click here for link buttons and other information on how to link.